Flaking roller mill type FWS
Custom flakes – Depending on grain type and requirements
No two flakes are alike – Unless that's what you want. With the flaking roller mill, you have full flexibility, and maximum product quality is always guaranteed.
How it works. Because it works.
The flaking roller mill is a versatile yet compact processing device for your flaking line. The feeding roll is integrated into the upper section of the roller mill, which saves you up to 60 cm of installation height. The custom position of the drive motor makes integration easy and space-saving for you.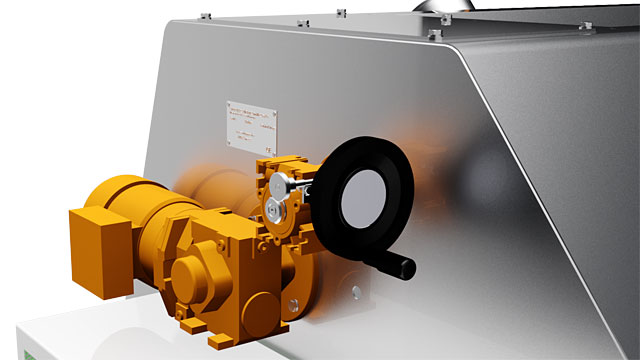 Roll of honour
The rollers can easily be adjusted with pinpoint accuracy via the powerful electro-hydraulic control system. This allows for a wide range of flake thicknesses, which you can configure depending on your needs and the product to be rolled. The rollers are operated using modern flat belt drives. This ensures quieter running and extends maintenance intervals.
Compact installation height

Wide range of flake thicknesses

Consistent quality thanks to consistent compacting pressure

All parts in contact with product are made of stainless steel

Additional automation modules and water cooling system available

Suitable for the following grains: Oat kernels and steel cut groats, maize, wheat, barley, buckwheat, millet, rice
But that's not all the flaking roller mill can do for you
Do you manufacture special products which require additional water cooling or corrugated rollers? You can easily specify this in your order. If you already own a flaking roller mill, the water cooling system can also be ordered separately and retrofitted. Furthermore, we also offer a fully automatic roller mill control system if you so desire. This system allows you to plug in the equipment and get to work right away.
Technical data
Weight

5315 kg
5139 kg
5741 kg
5764 kg
8500 kg
8500 kg

Motor

22 / 1.1 / 0.55 kW
22 / 1.1 / 0.55 / 0.12
30 / 1,1 / 0,55 kW
30 / 1,1 / 0,55 / 0.12
55 / 1.1 / 0.55 kW
55 / 1.1 / 0.55 / 0.12

Dimensions

2047 x 2876 x 1554
2047 x 2833 x 1554
2247 x 2876 x 1554
2247 x 2852 x 1554
2345 x 3244 x 1554
2345 x 3244 x 1554