Kiln unit
Grain stabiliser
The kiln unit ensures the shelf stability and drying of the oat kernels.
Roller coaster of temperatures
The kiln unit uses a holistic process which steams and heats up the kernel in order to finally extract the moisture, thereby drying out the kernels again. Via the cooling belt, the product is spread out and cooled down to room temperature.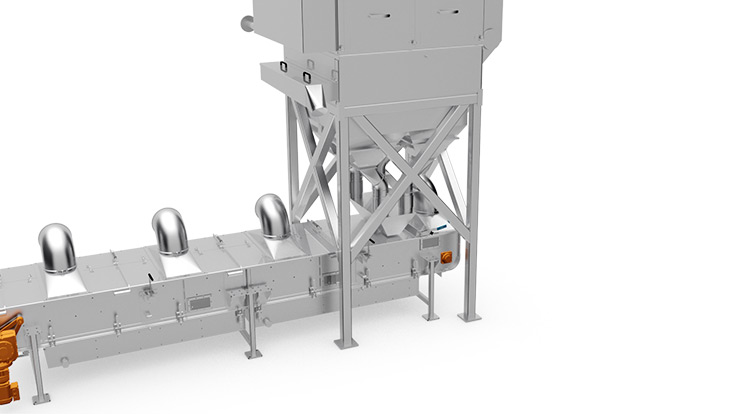 Homogeneous steaming
The steaming causes the gelatinisation of starch and the deactivation of lipolytic enzymes. The steam is carried via the rotating hollow shaft and directly injected into the product via steam nozzles installed at various levels. Thanks to the rotation process of the dynamic steam injection, the product to be processed is steamed in an absolutely homogeneous fashion.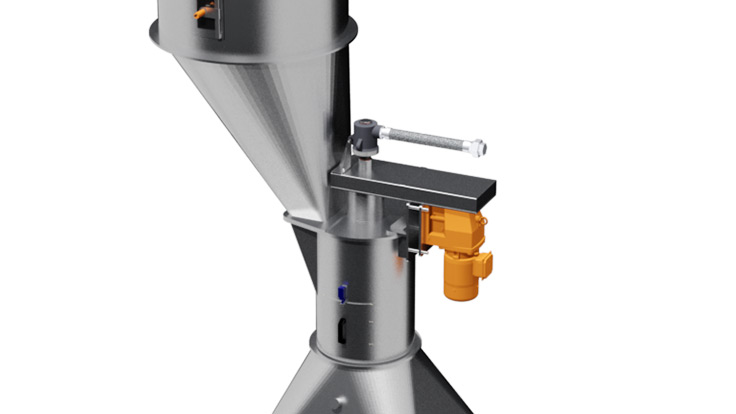 Steams every single grain
Because the steaming introduces moisture into the product, it is heated in the heating sections to dry it. The kiln can be outfitted with 2 to 6 heating zones – depending on the heating requirements. Two individual pipe systems per heating zone ensure an efficient and even configuration for the drying process.
Aspiration is everything
Every heating zone is equipped with a separate aspiration section. An even and effective extraction via suction is essential for the successful drying process of the kernels. Furthermore, it guarantees a high hygienic standard within the machine, because neither moisture nor condensed water can collect.
Extremely clean thanks to the use of leakage air

No burnt or crushed kernels

Large inspection doors to ensure hygienic quality

Aspiration section after each heating section

All parts in contact with product are made of stainless steel

All pipe bundles with pressure inspection (TÜV approved)

Automated steam distributor for individual temperature regulation of the individual heating zones

Suitable for the following grains: Oats
But that's not all the kiln unit can do for you
The kiln can also be used to roast grain mixtures. Feel free to contact us concerning your intended application.
Technical data
Weight

150 / 245 / 4650 / 1300 kg

Dimensions

5443 x 2310 x 10118
Download data sheet