Plate dryer type TD
Efficient and even drying
The plate dryer is used for the homogenous drying and mixing of grain, and in doing so creates ideal conditions for further processing.
Robust mixing equipment technology
Via a pipe, the cooked product is transferred to a sieve located in the working chamber. Here, it is mixed with the aid of four mixing arms and dried via the adjustable warm air injection mechanism. Thanks to the arrangement of the mixer elements, it is not necessary to manually switch from mixing to emptying. This also reduces the emptying time – thanks to outlets installed on opposing sides outfitted with electrical outlet gates.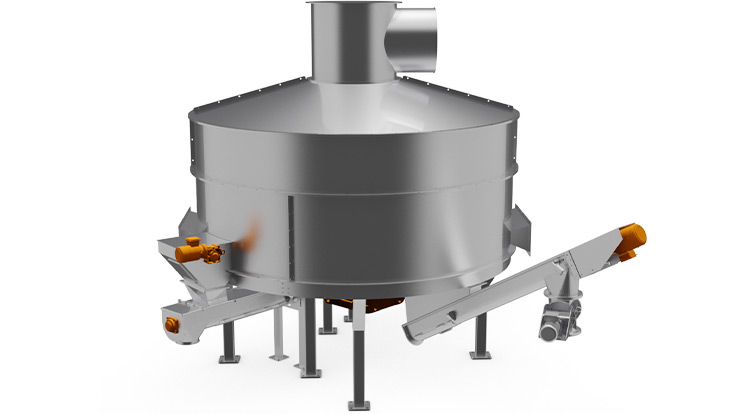 Custom moisture content
The warm air generated via the feed fan flows through the product and leaves the machine via an extraction hood. The moisture content can be modified via the feed air, temperature, and retention time. The easily adjustable drying performance as well as the homogeneous product penetration is particularly suited for the drying of product batches, which is why the plate dryer plays an important role particularly in industrial transactions involving smaller batch sizes.
Reliable, even drying and mixing

User-defined moisture content

Significantly reduced emptying time

No need to switch from mixing to emptying

Continuous removal of particles falling through sieve via attachment

All parts in contact with product are made of stainless steel

Suitable for the following grains: Maize, bulgur wheat
But that's not all the plate dryer can do for you
In addition to applications in the segment of traditional cornflakes manufacturing, the plate dryer also plays a particularly important role for special products, such as bulgur wheat.
Technical data
Motor

7.5 / 1.5 / 1.1 / 0.37 / 0.25 kW

Dimensions

3269 x 3108 x 3478
Download data sheet