Horizontal scourer type HSM
Plays both rough and gentle
The horizontal scourer is used for gentle yet efficient surface processing and to prepare the oats for hulling.
Powerful and versatile rotor
The main roller inside the horizontal scourer serves as a versatile rotor which the grain is fed into. How the grain is processed depends on how this rotor is equipped: For example, the friction can be managed and/or increased via an outlet hatch loaded with weights, or via the selection of the hardened special screen plates inserted.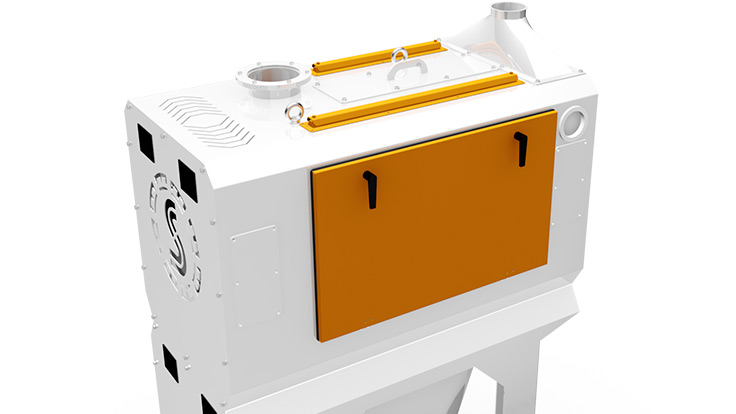 Simultaneous cleaning and polishing
During the processing of the grain, the adjustable extraction system at the aspiration duct in the collecting hopper ensures that fine particles and loose hull bits are directly aspirated out of the product chamber – supply air openings located at the top in the machine housing prevent dust from collecting within the machine housing. Furthermore, maintenance can easily be performed on the horizontal scourer thanks to screw-on grooved and lobed segments made of special cast material. The screen plates can easily be replaced via lateral maintenance doors.
Gentle surface processing and pre-conditioning for hulling via configurable friction level

Two aspiration options: Aspiration duct in collection hopper and at product outlet

Long service life and easy maintenance

Suitable for the following grains: Oats, spelt, barley, wheat, rye and similar grain types
But that's not all the horizontal scourer can do for you
During the production of ancient grains, the machine can also be used as a powerful deawner.